Thank you for stopping by,
since im seeking quotes domestically and internationally I created this page to make clear of this project, as opposed to having to explain it repeatedly in forms.



PART 1

I'm interested to get quotes for the production of a calendar that replicates the size and dimensions of the MAXIM 2017/2018 calendars. I find this size to be the best solution and easiest way to make a super fantastic, original calendar that stands out for one of our brands.



*Disclaimer: Please note we are using the MAXIM™ calendar as an example for this project , we do not own licesing rights or are we implying to produce this brand calendar, its just a demo.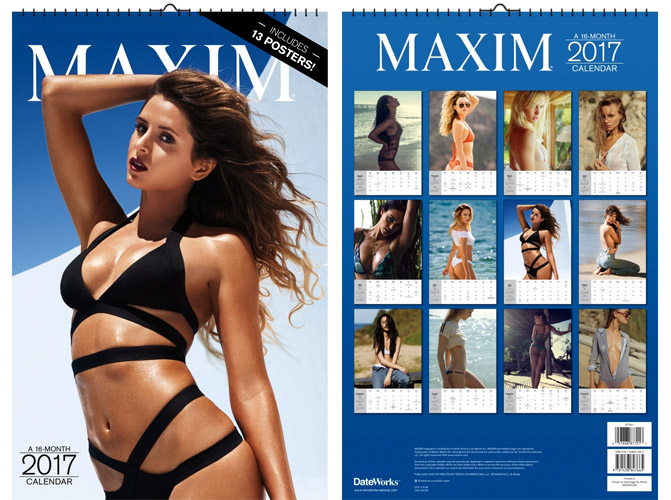 I'm calling it a poster calendar, as it is oversized, wire-o binding, hang on the wall, and a full page flip, so it does not have any folding.
Calendar Specs: 17" x 11"
18 pages 4/0 color (1 cover, 12 Calendar months, 4 extra pages for credits, 1 back cover)
Top bind- Wire O
(11 inch side, is the top. Not necessarily the same wire binding as pictured in the photo sample, but if you have those type of hangers let me know) OR 3/16 drill hole (not needed if wire hangers are the same as in photo)
Inside pages 100# gloss cover
Individually wrapped for retail sale (shrink wrapped or poly bagged)



Production will be late October and I'm flexible on paper weights, I prefer heavier weights on the cover and lighter for inside pages, all glossy since photos will be the main focus.


I have my dedicated printers for basic jobs such as business cards, flyers, door hangers, and brochures, but this is my first custom calendar and doesn't seem all just offer the normal default sizes. My dilemma domestically is that I'm having problems because of the size, I'm not sure why. I can also see it fitting in the category of wire-o book binding that is extremely wide, but just add a drill hole under the wire and flip it vertical and we are good to go. That's how i see it anyways.
If this can be done and your company does produce calendars such as this, then please submit me a cost quote for:

Quantities: 1000 / 5000
Production turnaround time:
Your Guarantee:
Payments you accept:
How you handle damaged / and or printing errors:
Where you are located, domestic USA, or international?
If International, does your quote include Shipping, Taxes, VAT, Customs fees etc.
If International, do you already have established trade routes to the USA?
Do you have samples similar to send ?
Any modifications on paper type?

All of these are important questions, please answer all for consideration and be blunt and direct.

Another concern: please read, reread, and understand the calendar wanted, I've already had quotes (by reps) and they had no clue to what was going on or know their in house capabilities on equipment needed or production.
---
---
PART 2

FOR THE DISTRIBUTION WAREHOUSES / FULFILLMENT CENTERS



Once the calendars are printed we will have them shipped directly to the fulfillment center, then we will submit all our pre-paid orders to the fulfillment center so you can quickly, efficiently, and accurately process the calendar orders to customers. There will not be any other items sent other than the calendars, the calendars are going to be our main focus.

Most orders will be individual calendars, but some of our rewards include multiple calendars of up to 100. Once the pre-paid orders are sent out we will then focus on online retail sales for the remaining calendars until the end a determined date in 2018. The remaining (if any) will be sent to us directly or we will have other arrangements.

As for now can you quote us for: 1000 pieces / 5000 pieces
1.) the process, fulfillment, and delivery costs.


2.) I have a suggested shipping box to accommodate the oversized calendar which needs to be delivered flat, no tubes or folding.

The box we found are from ULINE.com item# S-11217
https://www.uline.com/Product/Detail/S-11217/Easy-Fold-Mailers/17-1-4-x-11-1-4-Kraft-Easy-Fold-Mailers

The poly bags we found are from ULINE.com item# S-5069
https://www.uline.com/Product/Detail/S-5069/Resealable-Bags/12-x-18-15-Mil-Resealable-Bags

If you use something similar and more cost effective or have other suggestions, please let us know.


3.) Currently we use SQUARE for our online merchant processing, we are open to others to link customers online ordering to your fulfillment.

4.) I was thinking to have just one shipping option and that would be 3 day delivery and have a flat rate shipping charge, I'm interested to make shipping plain and simple, but maybe you can advise if its better to offer customers next day, second day, standard ground etc. and which carrier to use- USPS or UPS?

5.) Another option that may come up is if our selected printer isn't able to individually shrink wrap or place calendars in a poly bag, then we would have the fulfillment center do that, and also quote us on that possibility as well.

Those are my concerns and if you have any other questions please don't hesitate to ask. This BTW is a crowdfunding project and is dependent on funding of said project.



Thank You!
Paul Cervantez
pcervantez@pcp media group .com